A Quickie Rock Post
I'm making up for my lengthy absence with another quickie post. For this one, I'll provide everyone with three songs from the
Teenage Mutant Ninja Turtles III Soundtrack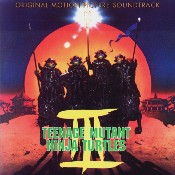 Yeah, I know, it was a pretty crappy movie, but it did have some nice songs that you really don't see much of anymore. And they're rockin'. Two of them even have "rockin' " right in their titles! Like "Can't Stop Rockin'" by ZZ Top and "Rockin' Over The Beat (Remix)" by Technotronic and Ya Kid K. "Can't Stop Rockin' " is really a kickass piece of blues-rock from ZZ Top's 1985 album
Afterburner
that DOESN'T stop rockin'... even when it's over because it gets stuck in your head. "Rockin' Over The Beat" is a great, early 90's dance number that I think may have been done especially for the movie. The original version of this song can be found on their album
Pump Up The Jam
but I have yet to find this remix anywhere else.
Along with these two "rockin' " songs is a semi-obscure classic synth pop song that has been lost to the ages. The
TMNT III Soundtrack
also features "Tarzan Boy" by Baltimora. I believe it became most popular in a Crest commercial back in the 80's. It's a great song and very catchy, especially with the Tarzan-like vocals in the background. And it has really weird lyrics that can be interpreted multiple ways. One part of the song is sometimes interpreted as saying, "Night to night / Give me the other, give me the other" and sometimes it's interpreted as saying "Not tonight / Give me the honor, give me the honor" and then there are other variations of those lines. The song is originally from Baltimora's album
Living In The Background
, but I don't think there are any more copies in print. I sure can't find any albums for sale online. I sure have to wonder how many people remember the song.